Posted on: March 31, 2023
Politicians and officials are brilliant; System made them corrupt
NV Paulose with Gayatri Vishwanath
India can become much more powerful and effective when we are able to turn around our political scenario into a professional forum of effective leadership; said Dr. CP Habeeb Rahman.
Political Integrity is part of his study based on Ontology for a long time. It is over three decades, he is advocating integrity and transparency in political governance. Dr Habeeb had met Dr. APJ Abdul Kalam at Rashtrapati Bhavan in the year 2006 in this context. He had proposed a clear road map for transformation of our leadership ethics. Political leaders should understand the ill effects of their compromises on principles and values.
We can take a parabolic turn around or a paradigm shift towards progress any time when we realize the infinite intelligence of the universe and formulate our code of conducts accordingly. Aim of our being should become the wellbeing of everyone in the society; said Dr CP Habeeb Rahman.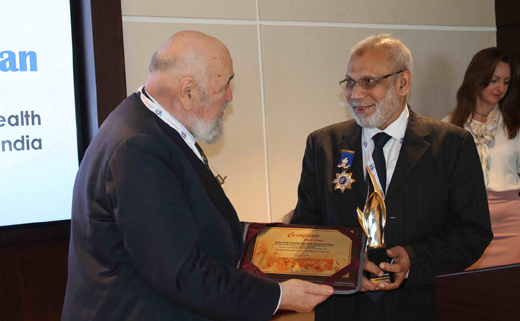 Character and Competence | Two Sides of the Coin |
Character and Competence are two important components in the conduct of individual and social governance. One cannot be compromised for the sake of the other. For Dr. Habeeb, the fundamental principles remain same as it was followed from his younger days. He was nurtured in the moral code of conduct at every stage of his growth. He comes from the prodigy of great Mahinka Tharavad. He was trained under value based education systems. He recalls the personal dignity and social integrity of the Priests in academics. The SJ Priests had respect for every community and their beliefs. They never had any superior feeling about their religion. Children of various communities were guided very well to follow their customs and practices. Their food habits were also respected. They never had any approach of saying our religion is big and others are insignificant. Every other aspects of value based living and ethical practices were taught in school education itself.
Respecting every religion and their community sentiments was a hallmark of SJ education. Moral governance got lot of importance. Every student had a clear sense of becoming an integral part of a progressive society. Each one wanted to excel by using right methods and doing appropriate things.
Today's education doesn't give required importance for these aspects. That could be the reason for a derailed social integrity in today's global governance. People go in wrong direction and later come back to moral governance. By the time it will be very late for them to make a come back in their life. Better we give lot of importance for values and morals in the early education itself.
Human is more a spiritual being than a physical being. We are trustees of God on earth. This realisation happens as an inevitable development in the life of every person.
We get a call for introspection every time as and when we go to the bottom line in our personal conduct and in our role in the governance of society. It has to happen in political governance as well. Entire world is in the turbulence of war and worries. Universe has to bounce back when we cannot go further down in that order.
Things go wrong and it go beyond our control. We see several stories ending up at miseries and turbulence. Human has an option to get into a realisation process any time in the life time. Collective wisdom of the society always move towards progress and prosperity.
Truth and our interpretations may not go matching most of the times. That's why we fail to see the under currents in the universe.
Our statistics are not very realistic and our projections are cooked up most of the times with unreal stuffs. The nature has a system to make a perfect record of facts and a clear accord of appreciations accordingly.
Capital Pool Concepts | IMA Capital Pool was proposed long back |
Dr. CP Habeeb Rahman is known for innovative thinking and unusual ideas. It was long time Dr. Habeeb suggests about Capital pool concepts. Capital concepts keep changing as the world keep changing. Dr. Habeeb could see the changes in economic equations. Plenty of savings and pension funds in the hands of people can be effectively utilized for the collective advantage of communities and societies. IMA Capital pool was suggested for doctors to come together and to create medical establishments collectively. Knowledge of the doctors and their savings; both are resources with immense value and potential. Putting them in right use at right place at right point of time can create transformational advantages. Risk free capital is very important in building establishments. Establishments in areas like health care cannot run like other commercial entities. We need to provide the best quality services to a society that cannot afford to pay for it. This is the dilemma of Healthcare Industry. Most interesting part is the approach of the governments towards health care sector.
Healthcare is not even considered as an Industry in India. It is included in service sector even when there are plenty of Machinaries and infrastructure are put into use in healthcare. See the dilemma, when we include Beedi in Industry and provide Beedi companies, the advantages of subsidies etc. as advantages for industries. Government is not able to provide healthcare to the citizens. Whatever is done in government hospitals are using the funds provided by the people through their TAX contributions. Healthcare is largely taken care by Private hospitals to which the government always hold a negative approach. This has to change. Incidentally, Unity Health Complex was the first Corporate hospital in Mangalore. Dr. Habeeb always maintained a humanitarian approach in healthcare services. He was highly principled and went by his consciousness in doing good to the society in the best possible manner. He is always found in the social affairs and society building processes. Community medicine concepts were not there at all in practice in Mangalore. Health camps and village visits etc. were introduced by Unity much before it has become part of the medical education system. Healthcare scenario in Mangalore and the education scenario owe a lot to Dr. CP Habeeb Rahman and to his pioneering efforts.
There were uniqueness even in construction of the buildings. Today it is known as therapeutic architecture. It was not meant at the time of inception of unity in the year 1978. It was just a plan B. If not hospital, then to convert it into a Hotel was the idea since there were no such hospitals existing in Mangalore in those days. Father Mullers and KMC Hospitals were not well equipped in those days. Government hospitals were so bad.
Then Chief Minister who had come for the Inauguration of Unity Hospital was surprised to see the kind of facilities in Unity Hospital. Unity continued to provide the best services in many critical areas including emergency care. Indian Society understood the concepts of Comprehensive healthcare advocated by Dr. CP Habeeb Rahman only during Corona pandemic. We are yet to get into the promotive side of healthcare.
Healthcare according to Dr. CP Habeeb Rahman has many dimensions like prevention, care and cure, emergency management, elective and invasive procedures and promotion of health. People who are healthy should make use of hospitals to get into healthy practices. It is doctors and medical services that can guide the society to remain healthy. Healthcare needs to be provided in a personalized manner. Each person has a unique medical profile. We cannot generalize the treatment regime for a society. Healthcare has several areas to take care. We cannot make a centralized policy as far a healthcare delivery system is concerned; Dr. Habeeb said.
Senior Healthcare in today's Scenario in Indian Cities and Village is a Major concern | New habitats are required to be built
Today, the need is to address loneliness, which is experienced by every senior citizen, whether healthy or not. Our society is in a mad rush to go to where no one has any idea about. Families are getting scattered and distanced. Everyone is in a hurry to build their career and future. World is getting into a fast food culture. No one has time to care anyone. Losers are the senior citizens. They are left in loneliness.
We need to address this issue before it get into chronic issues. Bigger families can create habitats for their senior members to come together and to celebrate their old age. There can be compact facilities provided according to their need. Bigger houses for two people is an impractical idea. Dr. Habeeb was talking about something that the society will think about much later. Every problem is an opportunity as well. That's why he is proposing large families like Mahinka Tharavad to think about concepts like Mahinka Habitat. There are about fifty thousand members in the extended Mahinka Family across the world.
Village Capital Pool | Create Global Villages | Think Globally But Act Locally |
The concepts of capital pool has plenty of dimensions. Village Capital Pool is an example. Today, larger families also can work on several ideas on Capital Pool concepts. Dr. Habeeb is initiating some of them in various segments of life. Education and Health Care are two growth areas. There are many possibilities in these areas to engage human resources along with capital pool resources. Lot of collective thoughts and actions are required in these areas. People from same villages should come together globally to do something in their native village using capital pool concepts.
Today's call is about an appropriate management of resources to match with the need of the time. Self management is the primary factor that every human being should take care of. Human should align their thoughts to match with the flow of infinite intelligence in the universe.
Three Dimensional Unity Principles | Inside | Outside | Beyond |
Dr. Habeeb believes in the principles of Unity from the very beginning. Unity has three dimensions. Unity with and within oneself is one dimension. Unity with fellow human beings is another dimension. Above all, there should be Unity with God. One who align the thoughts in these three dimensions will always remain humble and think broader. High thinking and simple living has always impressed Dr. CP Habeeb Rahman.
He is a thought machine that thinks about larger causes always.
Mentor youngsters from early childhood | Nurture Promising Students with quality education | Pick them Early and Train them well |
Building a generation in values and principles is very important. Equipping them with innovations and enabling them to lead the future through inventions are very important. Today's children are the future leaders.
Now that we are not able to accommodate the overflow of young and energetic dreamers; we have the responsibility to think about an expansive world that can not just accommodate them but to provide them the best atmosphere to explore their talents and potential. Otherwise, we have no other way other than to wait and see what the nature turns to make it happen to the future of the world.
Dr. CP Habeeb Rahman always compares earth with a flight. Yes, planet earth is a flight in all means. The earth is flying at a super sonic speed that we cannot make any flight to fly. Flight will collapse when the passengers fail to behave themselves in a flight. This is what happening in the world today. Hunan behavior is collectively inappropriate in the world.
Problems of climate change and war are examples of human misconduct. We need to show more wisdom to make our species to survive. No other animal on earth misbehave as much as we human beings do.
Dreamers need to get out from the bus that carries the run of the mill crowd | They may need to walk alone for some time | You will find plenty of different people who are unique | Collaborate with those who are co-operative | Connect with one another | Coming together itself is success today |
Unity of mindsets is very important in today's world. We should walk on earth with a purpose. In fact, we are here with a purpose. Each one of us getting into the track that we supposed to walk is very important.
You should make yourself different from the ordinary lot to get noticed by others. Those who prove themselves different will naturally get noticed by others. It is very easy for you to get support and backing from mentors and others once You are identified being an extra ordinarily potential person.
Brilliant students are identified from their behavior more than from their marks. Those who are just bookworms may not develop leadership qualities. Communication skills and PR Skills are important. Scientific mind is very important. Confidence and Compassion is important. Care for others is very important.
How you are good for others? | How much are you thinking about the larger society? | Are we alone on earth?
There is a need for People to People Collaboration in India Today. It is required globally as well. Capital pool concepts are really leading the society into larger collaborations at people to people level.
Who is your best friend? Who is your guide?
You should get guidance from inside first. You should make your mind your close friend. Deeper mind is very powerful compared with your outer mind. Go deeper and deeper and get in touch with the reservoir of power. Meeting and making more friends is helpful. Meeting yourself transforms your life entirely. Let that happen first. This is the underlying principle of Unity within one self. Achieving the next level of Unity with fellow men is possible when we have the unity within. All these are possible when we achieve Unity with God. All the three when put together will make us people with integrity. Otherwise, we are like a pen without ink or a table that has no sufficient legs.