Posted on: February 10, 2023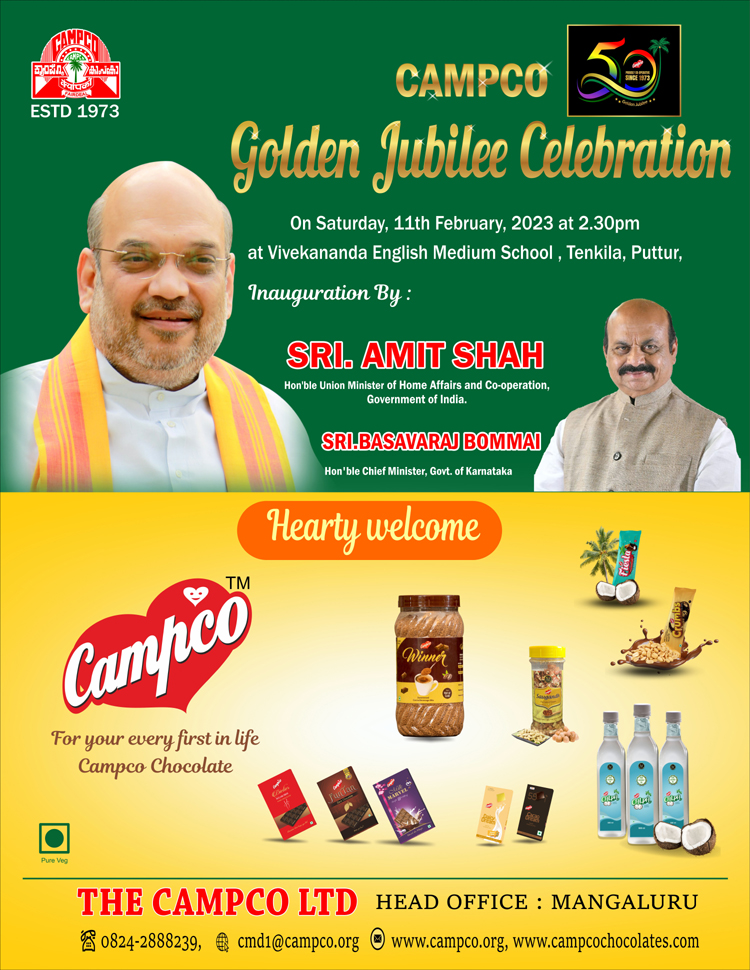 THE CENTRAL ARECANUT & COCOA MARKETING AND PROCESSING COOPERATIVE LIMITED
THE CAMPCO LTD – IN BRIEF
The CAMPCO Ltd., is a prestigious Multi State Cooperative established in the year 1973. It is a Cooperative of the people, by the people and for the people having widespread procuring and marketing network all over India. It deals in Arecanut, Cocoa, Rubber and Pepper and also manufactures Cocoa based Chocolates and other Semi Finished Cocoa Products.
With an initial Farmer Membership base of 3576 Members, it has now grown to a Membership of more than 1,38,000 Farmer Members. The CAMPCO Ltd., was established with the main objective of uplifting the Arecanut Growers from the hardship caused due to the glut in Arecanut Market in the Seventies. There were no signs of Market recovery and the small Agriculturists faced a dark future. In order to mitigate the crisis situation, the CAMPCO Ltd., was established by a Visionary Agriculturist Sri.Varanashi Subraya Bhat under the Karnataka Cooperative Societies Act, as an unique venture of both the States of Karnataka and Kerala.
Further in the year 1986 due to crash in the International Market, there were no Buyers for Cocoa Beans. To rescue the Farmers from distress, CAMPCO took up the responsibility and performed a Saviour's role by setting up second biggest Chocolate Manufacturing Unit in South East Asia- THE CAMPCO CHOCOLATE FACTORY in Puttur, Dakshina Kannada District with state of the art technology with a capacity of 23,000 Metric tonne per annum. The Factory fully equipped with automatic and sophisticated machineries was commissioned by Sri.Giani Zail Singh, the then Hon'ble President of India. Towards green energy , CAMPCO has set up three Wind Mill Units and also solar panels of 500MW. VAMs too have been installed at the Factory.
With a network of more than 160 Branches spread across the Country, a workforce of more than 2000 and an Annual turnover of more than Rs.2,778 Crores, CAMPCO is professionally managed by a committed Team of Members on the Board of Management under the dynamic Leadership of Sri.A.Kishore Kumar Kodgi, President and an able Administrator Sri.H.M.Krishna Kumar, Managing Director of CAMPCO.
CAMPCO has withstood the brunt of changing Market trends, recessions and upheavals in the Arecanut Market. Through a judicious Marketing Strategy, CAMPCO has gained the confidence of the Grower Members and assures that in future too it will abide by the main objective for which CAMPCO has been set up- SAFEGUARDING THE INTEREST OF THE GROWER MEMBERS.