Posted on: August 20, 2021
LEGEND DR. ARUNACHALAM KUMAR THUS WROTE IN THE YEAR 2005
Some decades ago, I had seen the Raj Kapoor magnum opus, Mera Naam Joker. The movie itself was a failure, box office wise, but was rated by far one of the best from RK stables. In the recesses of my memory are fleeting images and scenes from the film, and in depth of my ears, on lonely dark nights, the lilting tunes echo back.
One of the more memorable scenes was when, after his live-in friend and companion during poverty, Padmini, finds herself up the ladder of affluence.
One late evening, she returns after earning another hefty pay packet to her forlorn room mate, Raj Kapoor. Why the sad look and depression?Well, you see, Iv'e been looking for Moti, and he's hasnt come back.
Well, Moti is their pet performing dog, through whose antics, the duo had for long colleceted pennies on street corner shows.Padmini, just shakes her head and dismisses the despondency by retorting "ab Moti ki kya zaroorat hai?" She waves her wad of freshly minted currency.
Her non-chalant and cavalier attitude, and the import of the words staggers and stuns Raj Kapoor. He goes into a deep introspection, today Moti, tomorrow me? aaj Moti ki kya zaroorat hai, to kal mera bhi zaroorat na paday tho? kal mera kya hoga?So ruminating, he leaves the dilapidated shack, walks away into the night, calling out, Moti, Moti, and melts into the darkness.
I hope my rendition of the sequence is accurate, for it has been long since I saw the movie. But the screenplay and script and scene are forever etched in my memory. So often have I felt, in the last few years, how perilously real Padmini's interpretation had become to my life. So many times, I saw myself imagining, mentally replaying the movie clip.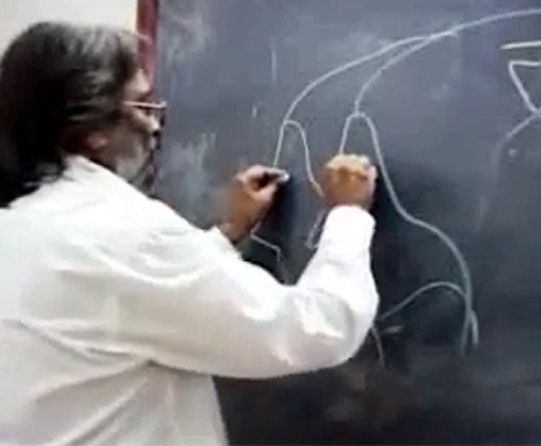 When Becker, my favourite dog died, it took just two days for the family to acquire a new pet. When, the fast growing Mayflower (gul mohur) sapling that was plated in the garden, failed to bloom after a year, it was hewed down to make way for another, a Cassia, which was proclaimed capable of producing flowers, earlier. When, the first car, got a few knocks and chipped a few areas of paint, it was packed off, and in its place stood a gleaming new one. Ofcourse life must go on, and change is inevitable. But, I, need time. Need time to erase, need time to replay and rewind. need time to forget. Sadly, few around me understood the sentimental sop I was, and still am.
And much like the once loved Moti, I too, was shaken off onto the street of life, stray, orphaned, alone. Only Moti had a heartbroken Raj Kapoor searching for him.
I, hear no search parties looking for me out, or hear familiar voices calling out in the darkness.
It is a wise man who remembers the lessons from life. And wiser is the man who learns from what life has taught other men. Bewarned, lest you hear the sentence that sounds suspiciously like "ab Moti ki kya zaroorat hai?'