Posted on: August 29, 2022
Unique Victory ✌ Unprecedented Sustenance 🏆 Great Opportunities Unfolding ✈️
NV Paulose Chairman Global TV
Two decades had passed just in few eye blinks. It must have had given many sleepless nights to the core team and key personnel to sustain challenges of all types and dimensions. farsightedness and fair play must have been the basic system that had set the media safe in the orbit of circulation across the state of Karnataka. Timely expansion into the digital space had given it a boost in global reach and swiftness in news coverage.
Kudos to the management that had never inflicted with any kind of mismanagement in news dynamics. Slow and steady win the race is a long Applauded phrase. It is nice while setting foundation for a long journey. Maintaining decorum while balancing the balance sheet is but a huge challenge. Stories of their conscious decisions and inner sacrifices can be described in a book when the mysteries are revealed in lighter veins as the house get set for further heights. At the outset, we can congratulate their courage to step into the storm and their warmth to remain calm.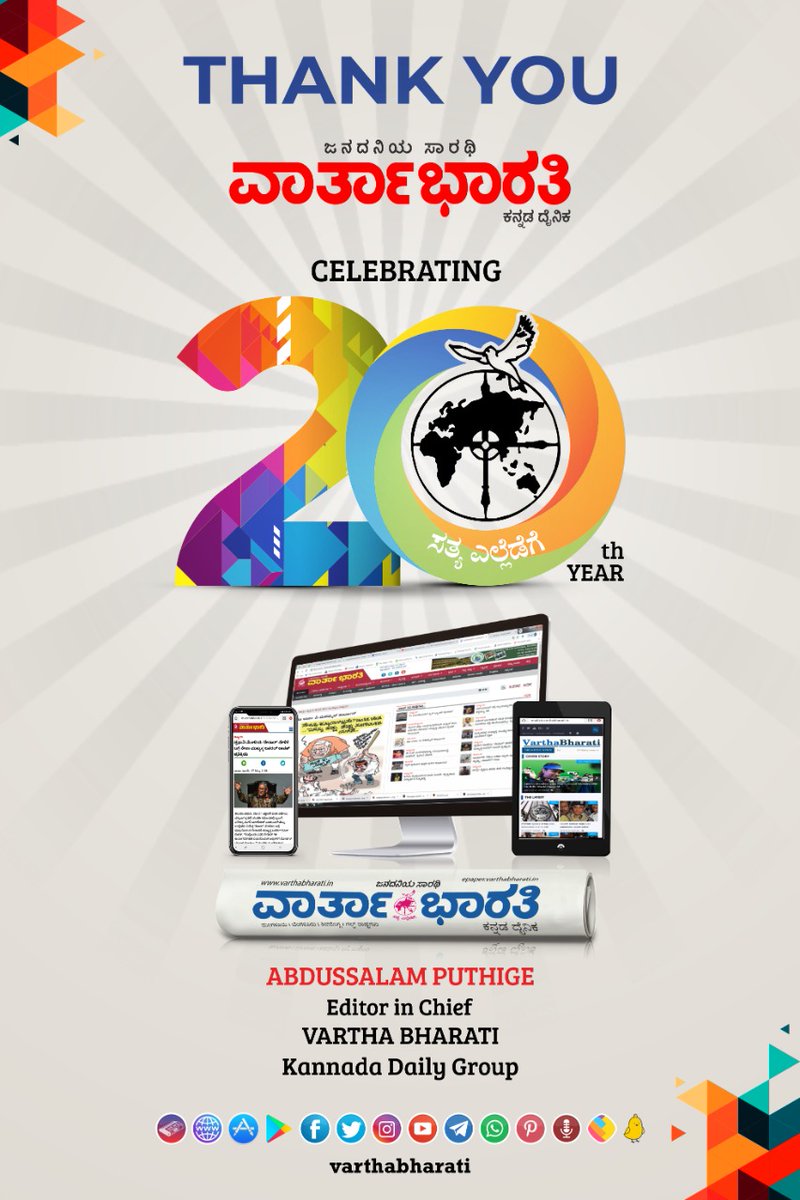 Vartha Bharathi has become a trendsetter in bringing light over sidelined issues pertaining to the life of common people. The newspaper give opportunity for everyone to present their viewpoints on important issues. The newspaper has a Non aggressive approach towards complex issues and conflicting denominations in the society. It has clarity about it's statesmanship and it is protective about communities that are deprived of social dignity and equality in society.
As we wish the Media House all the very best and a bright future, we alert them to collaborate with the younger world in creating innovation in the Media Space. Principles of Appreciative Inquiry (AI) would help the group to tighten their seatbelts and to fly ✈️ into untravelled destinations.
Media world as such is transforming in a faster speed. Advertisements' trends are changing but the advertisers are not aware about it. Most of the Social Media advertisements are generating adverse effects since they are entering into the territory of the reader's eyesight without their permission. We are living in a time where parents need to take appointments to meet their children over a dinner. This may be a bit exaggeration in India but the statement about forceful advertisements cannot be withdrawn at any instances.
Media today need to take lead role in positive social actions. Resolving issues in society is the task of secular media today. That can help only in maintaining the social status stable. We should do something more and further when we wanted to progress to safer heights.
It was in 1998 that the state of Karnataka had witnessed a concept of Public Relations Media Network to sustain Pressure from Monopoly Newspaper over Advertisements Agencies. Large number of youngsters were engaged under a Chartered Accountant to penetrate into the advertisements market.
Today we should create Youth Media Networks to bring innovations in Media space to create new revenue models and social development strategies. Collective Media Action (CMA) is the need of the hour. All secular media houses should connect with one another. Informality and flexibility are the key ingredients for progress. Media should penetrate even into the film world. Learning Through Cinema (LTC), Growing Through Cinema (GTC) are among the millions of possibilities. Micro Economic Models can become powerful than Microsoft in the new millennium.